We are a few weeks late sharing this post but it's still January, and given how the postal service has seen some delays, maybe this post isn't too late after all!
If you are a past client of Jason Loeb Realty, you should have received by now our annual wall calendar, which is published each year for us by the fine folks at trueImage Publishing in Lynden, WA. We worked with them this year to create a custom calendar and we are so pleased with the results.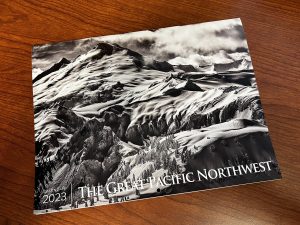 I am incredibly lucky to have a bevy of clients who are talented beyond measure. Some of my clients are outstanding photographers and so we reached out to see if any were interested in being a part of the 2023 calendar. We are so glad they said yes! Below are short bios of each contributor.  Each month features a local photograph, showcasing the natural beauty that surrounds us in Whatcom County.
Grant Gunderson  – grantgunderson.com
Grant's images capture the true essence of outdoor adventure in spectacular mountain ranges around the globe. He has shot for a long list of mainstream outdoor publications and his photos have graced the covers of more than 250 publications around the world. Grant has made Bellingham his home since 1998.
Audra Mercille – audraleephotography.com
Audra Lee Mercille, born and raised in beautiful Washington State, has resided in Bellingham for 15 years. A mother of two and ER Nurse, Audra enjoys photography in her spare time and uses it as a way to pay tribute to the natural light and spectacular landscapes that inspire her. 
Colin Wiseman – colinwisemancreative.com
Colin has been a resident of Bellingham for 15 years. His professional photography is primarily focused on snowboarding, mountain biking and outdoor lifestyles. His work is regularly featured in publications and marketing campaigns for leading outdoor companies worldwide. 
We still have a handful of our 2023 calendars left! If you are interested in receiving one, contact me or Kat and we can get one sent to you. And just think, you can look at my ugly mug all year long too.